There was a very interesting series of events that took place last year leading up to the 2016 presidential election.  You may not remember, but there was a little-known operation in early 2016 that raised the specter of perhaps an Obama administration tampering with the coming elections.  Here is a timeline of the events for quick reference:
President Obama orders the Secretary of the Department of Homeland Security (DHS), Jeh Johnson, to open all the state's elections systems to the federal government for a threat assessment overhaul.  Basically, Obama wanted DHS to send a request to all states' secretaries of state that they open their systems up to the federal government for scanning (a method of sending probes to the systems' programming to see where there are weaknesses).
Secretaries of state in most of the 50 states, both Republican and Democrat, balk and refuse to comply.
Obama throws a tantrum and orders DHS to issue a decree that all states' elections systems will be "designated as critical federal infrastructure."  Ostensibly, this was done to safeguard the states' systems from infiltration.  But below board, this was a direct attempt by Obama to set up a Plan B in the case that a very weak Hillary Clinton begins to backslide and lose the election.
The memo is issued by DHS.
Secretary of State Kemp of North Carolina (a potential battleground state, by the way) is alerted by his elections staffers that they are being scanned by an outside entity.  Kemp tells them to monitor it and inform him if it happens again.  It does, so he tells them to trace the IP address to see where the scans are coming from.  They do and discover that it's the DHS!
Kemp sends an email to Johnson at DHS, asking them why they are scanning the systems in North Carolina.  Johnson says they're not.
North Carolina is scanned again.  Kemp informs DHS, with proof, that they're being scanned again.  Johnson then answers that there was a mix-up, that a third-party "vendor in Texas" had been doing the scanning by mistake.
Kemp accepts the answer, but is suspicious.  Scans continue.  After another month of scans, Kemp has had enough.  He informs Johnson that the scans have continued.  Johnson answers that a "vendor in South Carolina" was the problem.
Kemp continues to monitor the scans which reach a frenzy just before the election.  But they also continue after the election, but before the state's election counts have been certified.
Directly before the election, Trump claims that the elections will be rigged in Hillary's favor.  As a result, hundreds of stories flood the Fake News Industrial Complex (FNIC) informing the public that the odds that anyone could taint the results of the elections were astronomical.  Obama himself came out and ridiculed Trump, stating that the US elections were the most secure systems on the planet.
Trump wins the election!  The next morning, the Russia collusion story breaks.  The DNC people and Obama act as if they knew all along that Hillary would lose to Trump cheating by working with the Russians "to undermine our democracy."
With all the crying and moaning, after Inauguration Day, the Leftist whiners get so loud that Trump finally capitulates and brilliantly forms a Voter Fraud Commission to look into possible problems.  Now Leftists are incensed that the commission wants to root out corruption.
So, Trump was actually able to trick the Leftists into requesting a Voter Fraud Commission; something they had been resisting for decades, claiming that there was no "widespread" voter fraud.  If you've ever listened to the Jackass Party, they consistently used the word "widespread" when referring to this "outrageous claim by the Republicans!"  The Republicans truly were requesting a voter fraud commission for years, but they were always pushed aside for more pressing matters.  Since they couldn't get it done, it took Donald Trump on winning an election to make it happen.  And now, they're regretting it.
As for Obama and the little-known "scanning" trick, I believe he was setting up the narrative of a Russian-hack long before anyone in the DNC let on that they knew Hillary was a bust of a candidate and would most likely lose.  The scans were an attempt by the government to set up a precedent by breaking into a state elections system and damaging it.  That way, they could then claim later (if Hillary lost, that is) that the Russians infiltrated and damaged the infrastructure that should have been turned over completely to the federal government in the first place!
Other groups have also been keeping a close watch on what's been going on with the elections systems and they have identified a massive problem in California.
Judicial Watch, a conservative watchdog organization, has sent a letter to California Secretary of State Alex Padilla on behalf of the Election Integrity Project, noting that there are 11 counties in the state with more registered voters, and alleging that the state may be out of compliance with Section 8 of the National Voter Registration Act (NVRA).
"NVRA Section 8 requires states to conduct reasonable list maintenance so as to maintain an accurate record of eligible voters for use in conducting federal elections.1 As you may know, Congress enacted Section 8 of the NVRA to protect the integrity of the electoral process. Allowing the names of ineligible voters to remain on the voting rolls harms the integrity of the electoral process and undermines voter confidence in the legitimacy of elections.

As the top election official in California, it is your responsibility under federal law to coordinate California's statewide effort to conduct a program that reasonably ensures the lists of eligible voters are accurate."
Judicial Watch lays out the specifics: "[T]here were more total registered voters than there were adults over the age of 18 living in each of the following eleven (11) counties: Imperial (102%), Lassen (102%), Los Angeles (112%), Monterey (104%), San Diego (138%), San Francisco (114%), San Mateo (111%), Santa Cruz (109%), Solano (111%), Stanislaus (102%), and Yolo (110%)." The letter notes that the percentage in L.A. Country may be as high as 144%.
The letter contains a threat to sue the Secretary of State if Padilla does not remove from the rolls "persons who have become ineligible to vote by reason of death, change in residence, or a disqualifying criminal conviction, and to remove noncitizens who have registered to vote unlawfully." It gives Padilla 14 days to respond, and 90 days to correct alleged violations of the law.
Padilla has been one of the main voices in opposition to President Donald Trump's Presidential Advisory Commission on Election Integrity, refusing to share voter data with it on the argument that doing so would "legitimize false claims of massive election cheating last fall."
President Trump has claimed that he would have won the popular vote in the 2016 presidential election if not for illegal voting, and his administration has singled out California as a possible contributor to that margin.
The Election Integrity Project is a California-based volunteer organization that monitors voting irregularities.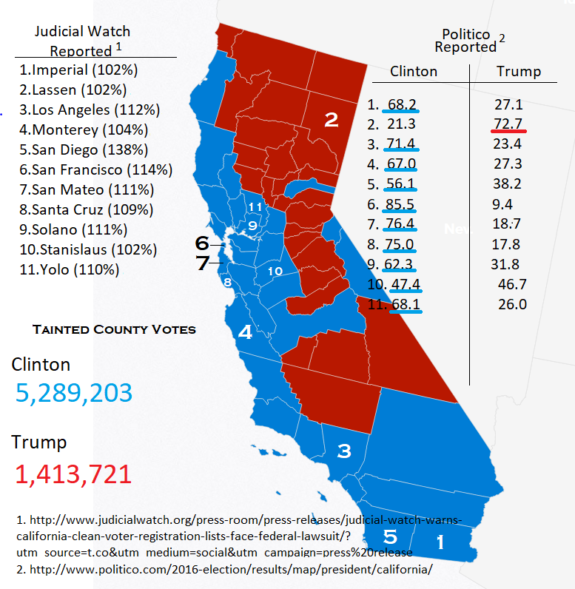 A couple of quick notes about these counties. In July 2017, the Army Corps of Engineers got the okay to begin breaking ground on construction of the Southern Border Wall.  In fact, they also received environmental protection exemptions because this was an issue of national security.  Do you know where that groundbreaking is taking place?
San Diego.  And do you know why?  Because it is the most concentrated area of human trafficking in the United States.  Illegals pour over that border more than in any other region in the south.  Take a look at the list of counties above and note which of them has the highest amount of voter discrepancies (where there are more registered voters than voting-age citizens)!  Exactly right.
Also as part of this discussion, it needs to be noted that Secretary of State Alex Padilla is one of those rabidly pro-illegal alien drummers who consistently refers to federal criminals as undocumented immigrants.  Take a quick read of this guy's rebuttal to President Trump wanting to quell the South American displacement into the United States by border-jumping.
"Today, Mr. Trump announced his plans to upend our nation's immigration policy and undermine our global reputation as a nation of hope and opportunity. Trump's proposal is wrongheaded and lacks the most basic understanding of American history."

"Often fleeing oppression and poverty, generations of families from around the world have sought out the United States as a beacon of hope and liberty. [Yes, but legally…] Our nation is better for it. New immigrants have always been the power house of our nation. Arriving with a work ethic and a dream, they have built what we know as America." [That is true.  LEGAL immigrants have been exactly that.]

"Immigrants are our coworkers, our neighbors, and our relatives. Many are like my father who worked for decades as a short order cook and my mother who cleaned houses in order to provide a better life for their children. Immigrants breathe life, innovation, diversity and faith into America. New immigrants are the embodiment of the American dream." [True, true and true…all LEGAL immigrants are that.  I'm second generation American.  I know where you're coming from.  My grandparents were LEGAL!]

"We should reject Trump's cynical proposal that seeks to erode the very nature of who we are as a country. As a people, we are better than this."
And here's more from the Sacramento Bee:
Following reports that President-elect Donald Trump's immigration transition team includes Kris Kobach, the Kansas secretary of state and a leading hard-liner on illegal immigration, California Secretary of State Alex Padilla issued a statement Thursday slamming the appointment as "a threat to diverse communities throughout our nation" and "an imminent assault on our collective voting rights and civil rights."
And on KQED News, Padilla was warning illegals to watch out for unscrupulous people who might be taking advantage of you while Trump's evil stormtroopers were rounding you up!
Secretary of State Alex Padilla is stepping up efforts to prevent fraud in immigration services, warning that residents who are alarmed by recent immigration raids and President Donald Trump's travel ban could wind up exploited by scammers as they seek legal help.

The problem is not new. Thousands of undocumented and lawful residents in the state become victims of unscrupulous actors posing as attorneys every year, according to estimates from immigration advocates.
This is rich!  These are people who are coming into this country by breaking federal immigration law.  They are purchasing fake IDs and stealing the Social Security Numbers of people who are either dead, still alive and don't know they've had their identity stolen, or they are newborns!  Many hospitals in the United States now employ massive numbers of illegals (especially South and Central Americans) for maintenance and housekeeping and there is a treasure trove of information about a person's life stored within those walls, including Social Security Numbers.  YET, WE NEED TO PROTECT THEM FROM FRAUD?
Padilla is also a huge advocate of shielding illegals breaking the law from deportation.
"We're coming together to make sure our community is informed and prepared because we are convinced that it's not an if — it's a when the stay (injunction) is lifted," Padilla said. "We'll be ready to further empower the immigrant community in California and throughout the nation to give them the protection and peace of mind they deserve."
So, now that we understand who we're dealing with and why it's so important that these people in the elections systems are exposed, we should support this effort to shine a little sunlight into the Golden State and reveal the dark underbelly of the beast.
Source:  Headline of the Day / Highland Community News / The Sacramento Bee / KQED News / Los Angeles Daily News