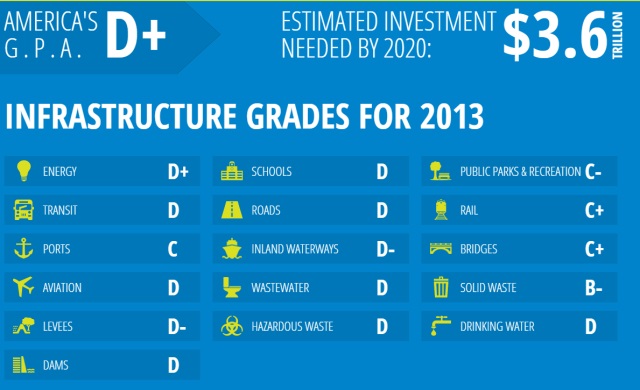 Source: American Infrastructure Report Card
The American Society of Civil Engineers released its infrastructure report card, and the prognosis of the country's roads, bridges, and public facilities is shocking. It's reported that the American Infrastructure has been in a very bad shape for years, and it doesn't seem like it's getting better anytime soon. Out of the 16 categories that the ASCE graded, all but one got Cs and Ds.
This isn't really a new problem, but it's a serious challenge influenced by different state and regional policies and approaches to similar problems, as well as local differences in causes of deterioration.
Andrew Flowers reported on the issue for FiveThirtyEight:
"State and local governments remain heavily indebted. They're on the hook to pay pensions and benefits to retired government workers, and they borrowed a lot of money in the capital markets in the run-up to the 2008 financial crisis. As a result, they've been more focused on paying down debt than on investing in big capital projects."
Not only is there dangerous potential for future disaster, caused by poorly-maintained infrastructure. We're experiencing serious effects right now. Just recall the toxic lead levels in the city water system of Flint, Mich., reported as late as 2016. Just delivering fresh, safe water to 320 million citizens is an enormous task, but there are dozens of other crumbling elements of infrastructure to consider.
Here's a list of facts from the reports that reveal just how bad things have gotten.
First up, if you think your electric bill is any higher find out what you can expect on your bills over the next few years:
Get started with the "Start Slideshow" link below: